Our Staff
Our dedicated staff members are here to provide support, compassion, and information to help you through your journey of grief and the celebration of your loved one's life.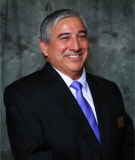 Rick D. Robles
Owner / Funeral Director
Mr. Rick D. Robles, President/Owner of Robles Mortuaries, Sunset Memorial Oaks Funeral Homes in Del Rio, Brackettville and New Braunfels,Texas and Sunset Memorial Oaks Cemetery. Mr. Robles is a 1990 graduate of Commonwealth College of Funeral Service in Houston, Texas where he obtained an Associate Degree in Applied Science,Scholastic Achievement Award and served as class Vice President. Ricky, affectionately known to many was born and raised in Del Rio, Texas. He proudly worked along side his father Mr. Rudy C. Robles at Rudy Robles Plumbing in Del Rio, Texas. Together, in 1984, they obtained the Culligan Water Franchise, In 1985 Obtained the Roto-Rooter Franchise where they proudly served the community until January 2016. In 1989 Mr. Robles was a Co-founder of Ramos & Robles Inc. DBA Sunset Funeral Homes El Paso, Texas where they proudly serve over 1000 families ever year from four locations.

Mr. Robles is the husband of Mrs. Lourdes Robles, the father of Mayra Vanessa Robles-Trevino and the proud grandfather to 3 beautiful Children Alan Eduardo Trevino, Fabian Ricardo Trevino and Valeksia Trevino.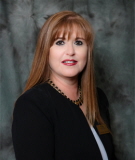 Lourdes Flores
Robles, Owner / Manager
Mrs. Robles not only manages Sunset Memorial Oaks Funeral Home, She is also a third generation director. She Owns and Operates Flores Funeral Home in Ciudad Acuna, Coah. Mexico, where she worked alongside her Father Mr. Raul Flores Longoria. Lourdes also has interest in Jardines de la Luz Cemetery also located in Cuidad Acuna, Coah. Mexico. Mrs. Robles is the Proud Mother of four Jaime, Cesar, Andrea and Daniel.
Sunset Memorial Oaks Funeral Homes New Braunfels